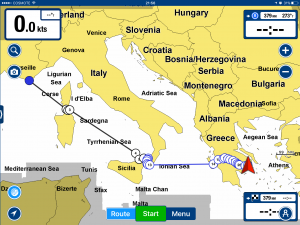 950 sea miles, 7 1/2 days , a great team of 4, 1 boat – Beneteau – Oceanis 41.1
Our journey started on Monday 4th of April flying from Athens to Toulon. After preparation we took delivery of our brand new Beneteau Oceanis 41.1 on the 6th of April. Following the sea trials , fueling and storing we sailed to Marina Alimos Greece. Our route was plotted through Bonifacio strait , stopover at La Maddalena, heading to Isola di Lipari then through strait of Messina stopping for a few hours at Reggio Calabria. Last part was crossing the Adriatic sea passing through Patraikos Gulf and Corinth Canal.
Enjoy some moments of this journey with us!