Sailing | The best way to experience dream holidays in Greece
Everybody is dreaming of a summer full of fun, chilling out in a bathing suit, having cold drinks on board a beautiful sailing yacht anchored somewhere in the Aegean sea while making plans for the next island of the itinerary.
This dream holiday can easily become true in Greece.
With hundreds of islands – large and small, fancy, picturesque, crowded or quiet and deserted, and variable weather conditions for experienced captains or beginners, or even for people without previous experience , Greece is the ideal destination to combine sailing, and other activities.
For many years now, a lot of travelers from all around the world are visiting Greece, chartering a yacht and sailing the Greek seas. Secret coves, open bays with crystal clear waters and sandy beaches are part of the experience.
Delicious local food and wine, sightseeing, walking, swimming and sunbathing, partying, complete the picture of what someone will experience, combined with unforgettable sailing trip and the sense of freedom.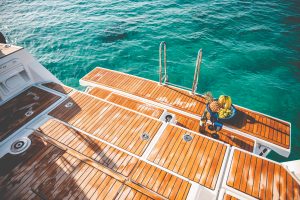 Greece is the ideal holiday choice for the sailing adventure, thanks to the many island complexes that make it easy for island hopping.
The Cyclades comprises a lot of diverse islands with a variety of cultures and landscapes, famous for their crystal clear blue and emerald waters, sandy beaches, whitewashed houses, isolated chapels, breathtaking views and cosmopolitan lifestyle making them an ideal sailing destination and a once in a lifetime experience.
While sailing the Cyclades you may experience the Meltemi wind, a strong and dry North wind, which occurs in the Aegean Sea and blows throughout the summer season mostly from July to August. Meltemi may offer good sailing conditions for many sailing enthusiasts. Kea, Kythnos, Serifos, Paros, Milos , Santorini are some of the most popular islands in this island complex.
Starting the sailing experience from Athens you can explore the islands of the Saronic and Argolic Gulf. These Greek islands have nice towns, ancient temples, Byzantine castles, traditional fishing harbours and safe anchorages. On a yacht charter holiday you will find numerous interesting places to visit with a combination of modern and ancient Greek culture.

By this very popular sailing holiday destination you will enjoy reliable sailing winds every day and the area is sheltered from the strong meltemi wind which can blow in the Aegean during the summer.
There are numerous possibilities on chartering a yacht .
Depending on your skills, the number of people on board and your budget you can rent from a small sailing yacht , to a luxury catamaran or even a motor yacht. You can choose if you want to sail by yourself , have an experienced skipper or a full crew.
The rates are affordable for all levels starting as low as are very friendly – starting approximately as low as 50 euro per night per person and can be directly compared to the cost of a hotel room , but having the advantage waking up on a different place every day!
Don't hesitate, Make your choice and the seas are yours !